Munising, Michigan Area Attractions
The Munising, Michigan, area is a year-round destination for beautiful sights, attractions, and family fun! The area is home to the spectacular Picture Rocks National Lakeshore, Grand Island National Recreation Area, and the Hiawatha National Forest.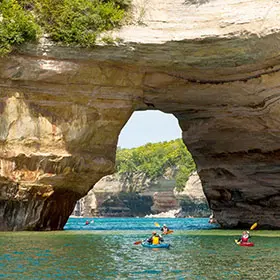 Things To Do in the Munising Area
Spring, Summer, and Autumn
Kayaking/Canoeing
Mountain Biking
Fishing and Hunting
Boating
Fall Color Tours
Horseback Riding
ATV/ORV Riding
Hiking
Birdwatching
Photography
Scuba Diving
Waterfalls
Lighthouses
Winter
Snowmobiling
Cross-Country Skiing
Ice Climbing
Snowshoeing
Hiking
Ice Fishing
Ice Caves
Dog Sledding
Photography
Booking rating score: 8.1 of 10,
based on 679 reviews.
North Star Hotel – Pictured Rocks
317 reviews
East Highway 28 and Federal Highway 13,
Munising, MI 49862
(3 miles east of Munising)
View Map